I remember hinting at my views and feelings to my loved ones for weeks and months on this topic… my new lifestyle. I had been feeling this way for quite some time, rather most of my life, but had never mustered up the courage to discuss it with any one. I was never educated enough on the subject to back up my beliefs and to counter the arguments that would inevitably come my way.
I would hint at it to my grandpa and his response was always silence. He wanted to debate with me but figured it was not a big enough deal to cause a fuss. I have been hinting at this view towards my wife for quite some time to soften the blow for when I finally come out and she is finally warming up to the idea. I remember telling my friend at work and her response was, "Zach, you need to stay away from false teachers".
My subtle hints grew into more profound and boisterous statements. "Isn't it crazy that God knew us before we were in our mother's womb?" and "Only God knows what will come of our life" were easy statements to warm up my loved ones for the bomb I was about to drop.
I am coming out as a Calvinist.
My love for Billy Graham while I was falsely converted left me hungry and thirsty for more knowledge and depth in my sermons that I would listen to on podcasts or watch via YouTube. I started out with Wretched Radio, which opened my eyes to a whole slue of various Calvinist pastors. R.C. Sproul turned to John MacArthur, which turned to Paul Washer, which then turned to David Platt and Voddie Baucham. My eyes had been opened to all that I had grown up around. Calvinists were not scary as we hear from our pastors growing up or podcasts like Soteriology 101.
The sinner's prayer has turned into my enemy and "Jesus sized hole in your heart" sermons have made my skin crawl. I can now back up my viewpoint as to the election and why that does not lead down to not having to evangelize. My pastor is very against Calvinism, but I think eventually I can hold my own in a discussion.
Coming out is not as difficult as I had once imagined. I think people are staying away form discussing it with me because they already assume I am ready for the arguments. It's like arguing with a Mormon, they already know all of the questions you are going to ask, so what is the point.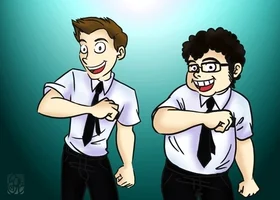 After the nightmare that ensued when my wife and I came out as anti-vaxxers and would not be vaccinating our child, I think I can handle anything.
If you are already inflamed, just add that I voted for Donald Trump to send you over the edge.
God bless